Megan E. Hodes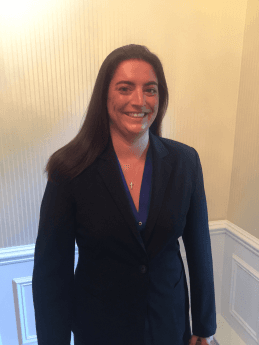 Megan E. Hodes was admitted to the New Jersey State Bar in 2015. Prior to law school, Megan worked as a matrimonial paralegal with the Law Office of Veronica Davis writing motions and drafting briefs for those in the middle of divorce proceedings. While in law school, Ms. Hodes worked with the non-profit organization Volunteer Lawyers for Justice to assist those attempting to initiate the divorce process.
Upon graduating from law school, Ms. Hodes clerked for Monmouth County Superior Court Judge Teresa Kondrup Coyle, who presided over the cases of the Division of Youth and Family Services (DYFS), now known as Department of Child Protection and Permanency (DCPP). In addition to the DCPP cases, Judge Kondrup Coyle also handled post-judgement motions, which Ms. Hodes was responsible for the drafting, revising and editing of all decisions. During her clerkship, Ms. Hodes completed training in Mediation and Conciliation Skills provided by the Administrative Office of the Courts of New Jersey.
Megan Hodes is a life-long Bergen County resident who spends a majority of her time participating in mud-runs, stand-up paddle boarding and skiing.
Memberships:
Admitted to New Jersey State Bar in 2015
New Jersey State Bar Association
District of New Jersey Bar Association
Education:
Pace University School of Law – J.D. 2013
Rutgers School of Criminal Justice – M.A. 2011
Boston University – B.S. 2007
Related Pages:
Have Questions?
Contact Us at 888.224.1218 to schedule a FREE consultation!
With 60+ years' combined experience, we are ready to help you!
Meet the Rest of the Firm Here!