Diana Sherwood, Esq.
A Bergen County Lawyer Specializing in Divorce & Family Law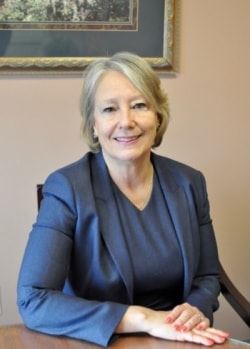 Diana Sherwood was admitted to practice in New Jersey in 1981, and in New York in 1983. She has been a family law practitioner for more than 30 years in both New Jersey and New York. Prior to starting the firm of Sherwood & Johnson, LLC, Ms. Sherwood previously served as a partner at the law firm of Finnerty & Sherwood, P.C. She also practiced as a litigation attorney with the law firm of Cole, Schotz, Meisel, Forman & Leonard, P.A. in Hackensack, New Jersey, and with Shanley & Fisher P.C. in Newark, New Jersey. During this time, she handled all aspects of domestic relations law.
A True Practitioner of Family Law
Ms. Sherwood represents clients in many complex matrimonial and family matters, which frequently concern issues of child custody and support, alimony, equitable distribution, and domestic violence. She has tried many family and civil cases to conclusion, including divorce, post-divorce, and domestic violence matters. Ms. Sherwood has appeared in both New Jersey and New York Family Courts, Surrogate's Courts, the Federal District Court for the District of New Jersey, the New Jersey Superior Courts, and the New York Supreme Courts. Her practice currently focuses upon family law matters in New Jersey.
Ms. Sherwood is an experienced litigator who specializes in high-asset and high-conflict divorces. While she is a seasoned litigator, she also understands that not every case is the same and that an individualized approach is needed. She believes that in the right circumstances, collaborative law or other alternative dispute resolution tools should be utilized rather than the court system. This approach can potentially save clients tens of thousands of dollars in legal fees rather than utilizing a cookie cutter template to a unique situation. Ms. Sherwood believes communication with clients is a priority, and she utilizes a team-based approach, providing open and improved communication for her clients.
Community Work & More
Ms. Sherwood has been appointed by the Supreme Court of New Jersey to serve on the District Ethics Committee for District IIA of Bergen County. In addition to being a strong litigator, Ms. Sherwood is also a collaborative divorce practitioner and a skilled mediator approved by the State of New Jersey, Administrative Offices of the Courts relating to family law matters. The lawyer volunteers her time in many different ways. She serves as a panelist for the MESP Program in Bergen County, the Collaborative Divorce Association of New Jersey, and the Association of Family and Conciliation Courts. She has been appointed and has served as a guardian ad litem for the courts. When Ms. Sherwood is not advocating for her clients, she enjoys spending time with her family, caring for her adopted pets, and rooting for her favorite sports teams.
Memberships:
New Jersey State Bar Association
Association of Family and Conciliation Courts (AFCC)
New Jersey Association of Professional Mediators
International Academy of Collaborative Professionals
Collaborative Divorce Association of New Jersey
Education:
J.D. from Seton Hall University School of Law — 1981, cum laude
B.A. from Douglas College, Rutgers University — 1976
Cases Handled:
Have Questions?
Contact Us at 888.224.1218 to schedule a FREE consultation!
With 60+ years' combined experience, we are ready to help you!
Meet the Rest of the Firm Here!